Meet our Sacoto Pediatrics team!
Dr. Sacoto
Pediatrician in Falls Church, VA
Sacoto Pediatrics
Doctor Maria Sacoto is certified through the American Board of Pediatrics. From a young age, she envisioned herself as a pediatrician and now she is following her dream, completely dedicating herself to the health and well being of her patients.

Dr. Sacoto is an Arlingtonian of Ecuadorian descent. She lived in Ecuador for many years and obtained her medical degree at the Catholic University of Santiago de Guayaquil. She completed her residency at Howard University Hospital and worked in the Arlington area for over seven years before establishing Sacoto Pediatrics in 2005. Dr. Sacoto feels that patience, empathy, and cultural sensitivity are key factors for practicing good medicine. She strives to work closely with her patients and their families to achieve overall wellness and a better quality of life. Dr. Sacoto is a native Spanish speaker.
---
Pilar Sequeira
Pilar Sequeira RN, MSN, NP-C, is a Family Nurse Practitioner who specializes in pediatrics. Pilar's nursing career began in 1987 after completing Associate's Nursing program at Queensborough Community College, Queens NY. While gaining experience as a Register Nurse at George Washington University Hospital and The Washington Hospital Center, she returned to school to complete her Bachelors of Science in Nursing from Catholic University of America, Washington DC in 1991, followed by her Masters in Nursing as a Family Nurse Practitioner in 1997 from Marymount University. Born in Spain, bilingual English/Spanish.

Prior to working at Sacoto Pediatrics, Pilar worked in various clinical & managerial settings including Internal Medicine, Surgery, Recovery Room and Cardiac Cath lab . She is a member of the American Academy of Nurse Practitioners. Certified ALS & PALS. Her special interests include Adolescent and International Health. Focuses on Education and Counseling of the entire family; Sensitive to the Differences in Cultural Beliefs and Customs when creating care plans for better patients outcomes.
Pilar currently resides in Arlington VA with her husband Gerry and her children Marco & Melina. They like travel, bike around the area and ski.
---
Vasanthi Chadive MD.
Vasanthi Chadive, MD. completed her Medical School at Siddartha Medical College in India and completed her residency at Howard University Hospital. She ran her own Practice for many years in Alexandria, VA to later become an independent physician. In 2017 Dr. Vasanthi Chadive joined Sacoto Pediatrics PC as the covering physician, due to her passion and love for our community, she joined us as the part-time MD.
Dr. Chadive speaks Spanish and loves working with the Hispanic community.
---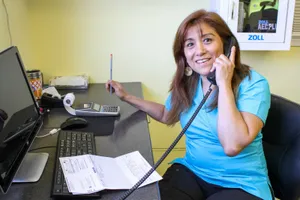 Teresa Vigil
Billing Manager: Teresa Vigil. Teresa was born in Lima, Peru and got her bachelor in Business Administration at Universidad del Pacifico. She attended to local billing and coding seminars and had been working with Sacoto Pediatrics, PC for the last 10 years. She is bilingual Spanish/English and love to be within the children environment. She is a dedicated professional in her position, keeping always good relationships between patient-parents-insurance and maintaining strict patient confidentiality.
---

Debbi Hernandez
Debbi Hernandez: Debbi was born in Maryland, Salvadorian descendent, she is fully bilingual Spanish/English. She is working with Sacoto Pediatrics, PC since she graduate from school in 2012. Debbi enjoys being a Medical Assistant but more yet to work with children.
---
At Sacoto Pediatrics,our team consists of experienced, compassionate pediatricians and friendly, nurturing staff members who take pride in giving our young patients the personalized pediatric care that they deserve.
We understand that you have a choice of pediatricians in the Falls Church area, and we appreciate your consideration. We can assure you that you'll feel confident in our ability to meet all of your expectations.
All of our pediatricians are highly educated professionals who have undergone rigorous academic and clinical training in pediatrics. We maintain a high level of expertise through continuing education in order to provide the most up-to-date care for the young patients we are privileged to serve.
Sacoto Pediatrics, PC believes in a team approach to your child's health and well-being, so all of our doctors collaborate with parents to provide the highest level of care. We appreciate the opportunity to care for your child and pride ourselves on making pediatric care a pleasant experience for all of our patients.